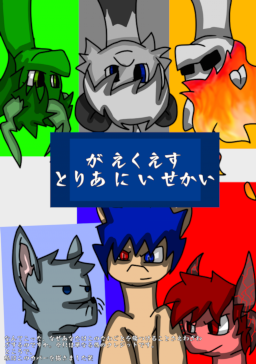 Synopsis: There was a terrible tragedy in a mountainous neighborhood. Ace, the main character of the story was shot. And was reincarnated, starting a new ridiculous life in Equestria.
He's finally living in a life where something in his old life doesn't exists.
(Note: this is a remastered cersion of the Ctrl + Shift series. The title doesn't makes sense, and I decided to delete the old story.
If you see some grammar errors, please forgive me, I just go with the flow and I don't have an editor. I just put some words and sentences that makes sense and easy to read.
There are violence in bossfight chapters, and mild violence such as hitting the head with a frying pan in regular chapters.
And also, I don't use some fancy words in this fanfic. I don't really use them and It's hard to read and understand to others. And I will write the story on my perspective.)
Alternate Title: [Ga Ekuesutoria Nii Sekai] [が えくえすとりあ に い せかい]
Chapters (14)