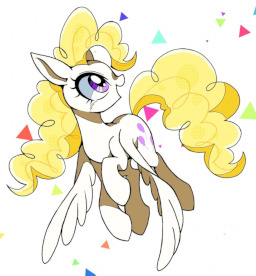 Source
Eleanor Wolfe has been a Pegasister since she was a little girl. Her favorite ponies have always been Pinkie Pie and Fluttershy. One night, she watches one of her favorite episodes, and Pinkie Pie extends her hoof through the television, beckoning Eleanor to take her hoof.
Curious and taken by Pinkie Pie's character, Eleanor takes the hoof and is transported into the world of Equestria. However, the Mirror Pool makes one tiny mistake, Eleanor emerged from the pool as Surprise from Generation 1...
Will Eleanor accept her fate as Pinkie Pie's Pegasus twin, or will she be able to find a way home?
First two chapters take place during 'Too Many Pinkie Pies'.
---
Cover Art belongs to the talented and awesome Imalou.
Pony Designs belong to Duo Cartoonist.
My Little Pony: Friendship is Magic belongs to Hasbro, DHX Studios and Lauren Faust.
Chapters (2)