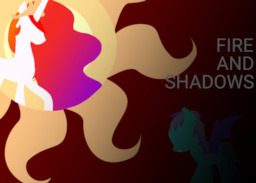 This story is a sequel to Sombra's Bat
---
Princess Celestia is worried. A threat to her and her kingdom has arisen and she has so far been unable to stop it. From her perspective, these ponies are creatures of darkness and she is fearful for both her loyal subjects and herself.
Moonlight is also worried. She has a family now - a close circle of friends, her mother and of course her lover Sombra - but Celestia will not leave them alone no matter how hard they try to keep the peace.
The darkness and light are locked in battle, and many kingdoms are at stake. However, Celestia has made it clear that this is about much more than just politics. No, this is very personal, and she has a score to settle. Moonlight will have to fight harder if she wants to keep those ponies close to her heart safe.
---
This is a sequel to Sombra's Bat, so if you haven't read that this won't make much sense. Check out the original if you're interested!

Chapters (2)