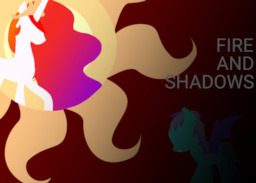 This story is a sequel to Sombra's Bat
---
Princess Celestia is worried. A threat to her and her kingdom has arisen and she has so far been unable to stop it. From her perspective, these ponies are creatures of darkness and she is fearful for both her loyal subjects and herself.
Moonlight is also worried. She has a family now - a close circle of friends, her mother and of course her lover Sombra - but Celestia will not leave them alone no matter how hard they try to keep the peace.
The darkness and light are locked in battle, and many kingdoms are at stake. However, Celestia has made it clear that this is about much more than just politics. No, this is very personal, and she has a score to settle. Moonlight will have to fight harder if she wants to keep those ponies close to her heart safe.
---
This is the sequel to Sombra's Bat and the second story of Tales of Shadows and Stars, a series based in an alternate version of FiM. The light and dark are constantly at war, and one bat pony - Moonlight Amethyst Shade - is faced with a choice of which side she wants to be on whilst aware of everything that could be at stake.
---
Bronie312 - I'm eternally grateful for your help as a proofreader, editor and co-writer. There aren't enough thank-yous for you.
Bronycommander - Thank you for letting me include some of your OCs in this - they've made this story that extra bit more interesting to write.
Purple Patch - Your advice has helped me take another look at this story and the world it is in, and your OC was an incredibly fun character to use in this. Thank you for helping!
Chapters (34)