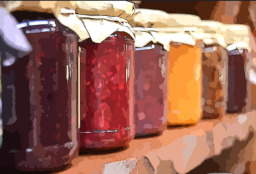 Source
The young jam-maker can't really remember what his life was like before he was bringing his cart to the market everyday, but he remembers being distinctly unhappy. Not that sitting in the hot sun at a rickety old cart is much better. Through his conversations with a lively and persistent young mare, he may be able to have a change in perspective for once, especially when new opportunities come his way.
Assuming he doesn't fall into bad habits and forget about what's right in front of him, again.
The Princess surely had the best intentions for him when she gave him this dream, after all...
My submission for the Friendship is Optimal writing contest.
Chapters (1)