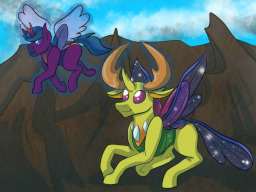 This story is a sequel to The unicorn maid and her son
Thorax the changeling also known as the husband to Twilight Sparkle and the father to Prince Alistair has decided to do some activities with his son in order have a father and son bonding time with each other. Will this be an entertaining moment?
New story! I hope you all will enjoy this one too! Also, I do not own My Little Pon. It belongs to Hasbro, and the image I am using for the coverart also belongs to it's rightful owner.
Chapters (1)