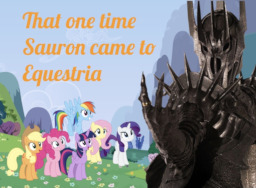 Twice had he attempted to conquer Middle-Earth and twice had he failed.
But now, the dark lord Sauron has his eye fixed on a new world ripe for the picking.
Descending into this strange and annoyingly colourful realm only known as "Equestria", Sauron expects the usual song and dance when it comes to conquering: Resistance, war, bloodshed, cruelty, all that good stuff.
Imagine the fallen Maia's surprise when his efforts to rule Equestria is met with positivity and friendliness.
Chapters (1)