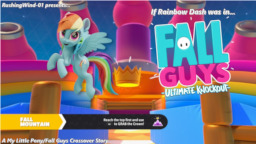 During a ground race with Applejack, Rainbow Dash accidentally falls into a portal and finds herself trapped at the start of a show with 60 weird-looking living beings with the one in the know: To win.
With her wings tied up, Rainbow Dash needs to be fast, reactive and smart if she wants to win and to survive.
Rated E for Everyone. This is a crossover between My Little Pony and the PS4 videogame "Fall Guys".
Chapters (7)