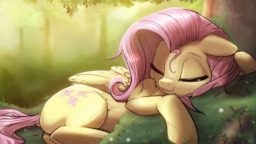 Dragons are terrifying for none can hear the words inside the roars. Fluttershy, the only pony to understand them, is silent and terrified for a different reason. The girls are attacked by a foul group, but are saved by a silent, purple dragon.
Canterlot has sent a witchhunt for dragons in the surrounding area. There are knocks at the door. Fluttershy answers to find her saviour—bleeding, quiet, and on the run. Saving him means more than stopping the bleeding.
The guards are still looking. Friends harbour pains and prejudice against all of his kind. Mobs gather in fear of the unknown. And Fluttershy, deeply knowing dragons, fears them for a different reason. Yet she's the only one that will be able to understand what this kind dragon has to say.
Will she be able to save him? Will this one be different from the rest? How did Fluttershy acquire this ability? Why does Twilight regard all dragons with scorn?
The clock is ticking; the witch hunt is on.
---
Chapters (2)