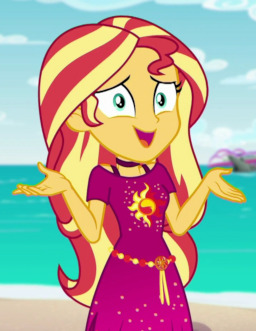 Source
This story is a sequel to Aftermath Of The Formal
---
Sunset Shimmer returns home after a bad fight with Luna, and they have some words to exchange. Then, it turns out Chrysalis hadn't been entirely truthful, and Sunset hits the streets. She comes across Trixie and has a not too great time with her, but their circumstances allow them to not be at each other's throats. She reflects on what she's done and how things are going before she confronts Luna once more. Luna presents her with renewed adoption papers but....
Sequel to Aftermath of the Fall Formal starting at Chapter 22. So it's more like a branch when that story is done.
Edit 20210403: This used to have a human tag for EqG but I realized that's not what it's for. Pardon!
Chapters (1)