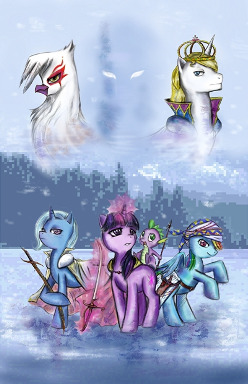 Source
Long ago, the War of the Magi reduced the World of Harmony to a scorched wasteland, and the powerful Magic of old ceased to exist. Even unicorns, the sole remaining wielders of conscious magic, were left with naught but the weakest of telekinetic power.
1000 years have passed... metals, focusing gems, explosives, and steam engines have been rediscovered, and high technology reigns. But once again there are those ponies who seek to enslave the World of Harmony by reviving the dreaded destructive power of Magic. Even now, Harmony hangs by a thread.
Can it be that those in power are on the verge of repeating a senseless and deadly mistake?
FFVI is owned by Square Enix. All credit belongs to its proper owner(s).
My Little Pony: Friendship is Magic is owned by Hasbro. All credit to its proper owner(s).
Chapters (71)