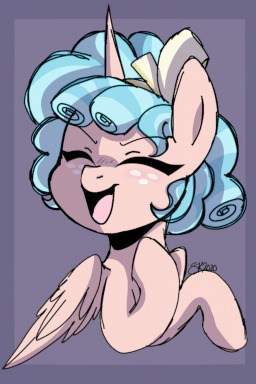 This story is a sequel to The Genie
---
Word has spread far and wide across the land of Equestria that the Retired Princesses have spent the last 17 years searching for a Magical Lamp, word of this search has reached the far corners of the map and many unexpected parties have joined them in their quest to find the lamp.
Things get out of hand however when the next one to find the lamp is none other than Cozy Glow, who uses the lamps power to escape her stone prison and accidentally finds a loophole in the Contract that bound Spike to his lamp that allows her to have more than three wishes by using the most ancient of magic words.
With Spike's power on her side she begins a plot to try and gain the affection of Flurry heart so that she might become an Alicorn through marriage as she finds Spike is unable to make her one with a wish, her plan goes awry however when she starts feeling real affection towards Flurry and starts forming a bond with Spike.
Chapters (6)