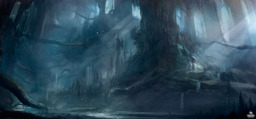 Source
This story is a sequel to Changing Expectations
---
A changeling royal: Princess Prochoerodes.
A team: Six changeling drones.
A mission: Delve into the most dangerous location on Equus and retrieve a treasure most valuable.
An order: Come back with her shield, and not on it.
Princess Procho has been given the honorable task of retrieving rare metals from the Underhive, an expansive layer of existence below the surface. She and her team must face the deadliest creatures on the planet, make it all the way to the bottom of the world, and come back up the surface.
All while trying their best to not die.
---
A sidestory to Changing Expectations, it is extremely recommended to read up till Chapter 53- The Promised Day before reading Underhive 733. You can read this fic without reading CE first, but it will spoil some mystery in CE.
On Hiatus until The Six Bit Crown is finished, then I will work on this.
Chapters (2)