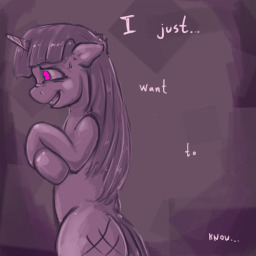 Source
Twilight Sparkle has been a student, personal protege, and friend of Princess Celestia for many years. However, when the Princess appoints her to be the new Grand Magus of the Equestrian Royal Court, everything changes. Celestia becomes reluctant and unwilling to teach Twilight anything more advanced than what is absolutely necessary to perform her new duties.
What is Celestia hiding? What is the Princess protecting?
Celestia's attempt to withhold knowledge from Twilight tragically backfires, pushing the student to learn everything she can of magic, the workings of the world, and the Princess's secrets. No matter the cost, no matter how forbidden these areas of study are, Twilight is determined to learn the truth.
Twilight is taking the first steps of a journey that once started, cannot be taken back.
---
Author's notes:
* This story was inspired by, but is not associated with kvernikovskiy's Tumblr blog "Ask Researcher Twilight".
*Now under management of the original author.
* Special thanks to our editing/prereading team:
Azu (Co-author)
MysteryAlabaster
Key Tapper
Alcatraz
... and all the others that happen to fall into my icky editing documents from time to time.
* Constructive criticism and ego stroking are both welcomed with open arms.
Chapters (22)