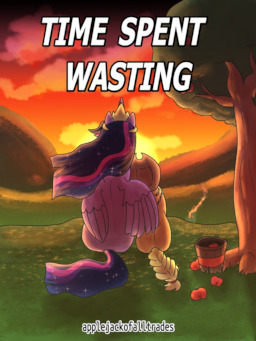 Now with a reading by ObabScribbler! Go check it out!
---
What was the most important Friendship Lesson I ever learned? Well, it happened one night many, many years ago...
---
During a check-in visit to Sweet Apple Acres, Twilight finds a much too old Applejack overworking herself. The farm is lonely, the orchard is diminished, and Twilight is worried. A talk about the past reveals Applejack's current struggles with the farm, her family, and herself.
---
Originally written for the Quills and Sofas Unremarkable contest. A few minor edits were made here and there, but it's almost entirely unchanged. Thanks to Posh, Decaf, MushroomPone, RedParade, and NoponyPones for pre-reading and giving feedback during the contest ^^
Chapters (1)