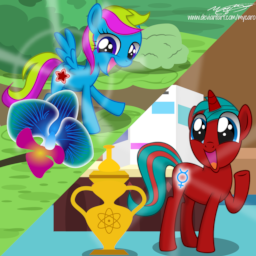 Source
This story is a sequel to High-Water Mark
---
Quicksilver, Misty, and Cloudy Night have been friends since foalhood. Yet as they age and mature, envy and obsession begin to drive a wedge in their relationship. Tension builds as tempers flare to the point of open conflict. A single unthinking act could destroy multiple lives.
This story is part of The Quicksilver Chronicles, a series of stories that follow the adventures of Quicksilver and Misty as they make their way through whatever fate throws at them.
Cover art by MagnusMagnum.
Thanks to my pre-readers OConnerGT-R, mikemeiers, and FionaF. With a special thanks to my editor EverfreePony.
Chapters (3)