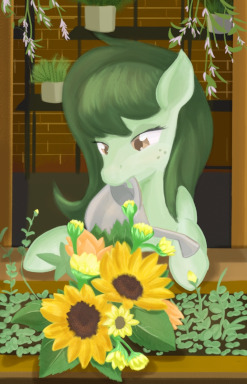 For little Wallflower Blush, life had always been quiet here in Canterlot, and everything was where it should be. Her family's flower shop was running just fine, school was just enough of a manageable hassle, and though she found it a lonely life, it was a life she was fine with.
Then one day, who else should she find loitering about in the flower shop, with a whole baggage of issues to sort out, if not the Princess' own personal student? And when she starts talking to her, and no other, perhaps it won't be so lonely after all.
---
9.5/10 from the Reviewer's Mansion
Highly Recommended from Present Perfect
Set before the events of Season One.
A standalone piece in the Spectrum-verse. TV Tropes page here!
Written for \o/ Scampy's SunFlower Shipping Contest \o/.
Edited and proofread by VoxAdam, cover drawn by my friend Grace. Thanks a bunch, guys

Featured on 08/04/2021 - 09/04/2021.
Chapters (1)