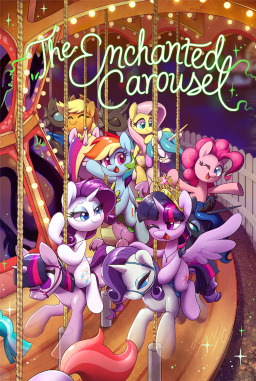 Source
This story is a sequel to The Enchanted Kingdom
---
Once upon a time, there was a mare who did not believe in fairytales, and a very different mare who did not believe in herself. Their lives intertwined, weaving together a fairytale like no other, filled with chaos and love, friends and enemies, adventures and tragedies. A fairytale they felt would last forever. But it couldn't.
Be it with a bang or with a whisper, everything eventually must come to an end, whether we like it or not—their story is no different.
With nothing left to lose and everything to gain, all Rarity and Twilight can do is make sure it's an ending worth telling.
---
Final story in The Enchanted Trilogy.
I have moved on from Fimfiction but The Enchanted Carousel is still actively being written and published over on my personal website TALES FROM HOLLOW SHADES!
If you like my work and can afford it, please consider joining my Patreon! Funds go to paying for the chapter artworks and paying the artists more! And also helping me pay my rent ,,,,
Cover art by the fantastic Dawnfire. Chapter artworks by the incredible Arcticwaters.
Chapters (6)