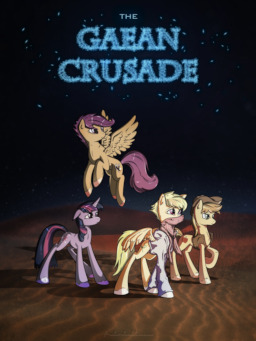 Source
Canceled sequel to Displaced.
It has been three years since the rogue Draconequus Morrigan threatened the stability of Equestria, and a further three since the defeat of Nightmare Moon. Since then, life has settled for even Equestria's newest resident, Goldenrod. However, following a bizarre celestial event, Twilight Sparkle has received not just a quest from Princess Celestia, but one that has the fate of the Mother of all Alicorns in the balance. If they fail, it's not just the Mother of the Alicorns that will die; all Alicorns and the peace they bring to the world will die out with her.
The fate of Equestria rests in the hooves of Twilight Sparkle and her ragtag team Celestia's chosen and participants in the 'Morrigan Affair'. Can they restore the artifacts binding the Prime Elements to Mother Gaea before it is too late, or is Equestria doomed to a dark fate beyond all imagination? Only a strength of spirit and a faith in each other will allow them to prevail.
Chapters (4)