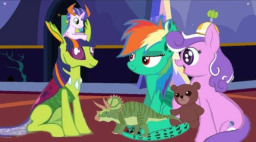 Twirax, Screwball and Viper are three cheerful and amazing hybrid friends who are asked to take care of Alistair the young hybrid Changeling and Friendship prince while their parents head to the spa for the day. Will this be a nice and easy duty?
New story! I hope you all will enjoy this one too! This story will be a crossover of my friend TyrannosaurusVenom's story The King's Legacies. I hope you all will like it.
Also, I do not own Jurassic World or My Little Pony. Everything in this story belongs to their rightful owners.
And the art I am using belongs to my good friend Rhino932 Toon on deviantart.
Here's the link to it
https://www.deviantart.com/rhino932/art/Three-friends-babysitting-Alistair-870330261
Chapters (1)