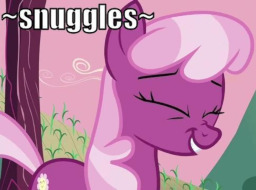 This story is a sequel to Still No Signal
---
To the point: Human in Equestria, Cheerilee decides to make a move on him and it works? Kind of? Something like that.
Anyways, I was writing a story about a blatantly self insert I mean... a human going to Equestria, but thinking about reasonable reactions and interactions ponies and the human would have (You know, the most cliché stuff you could ever imagine, but it was a guilty pleasure to write). So, I was avoiding ANY romance at all, focusing on language and culture learning and adaptation but then, last year Valentine's day came and I decided to throw everything trough the window and write a silly romance one based on it and... well, let's say it's on time this year! Kind of, because is not finished yet, but I suppose I could post it as incomplete and go from there. So, I will publish this cheeky cheesy incomplete story here and see what happens...
It may contain human x pony romance, references, fluff, traces of memes and other allergens, including subtle RGRE moments.
Added 'Narcotics' because there is a description of a hangover, and better be safe than sorry, I guess.
Lazy cover image screencap from derpi
NOTE: The 'prequel' is about the setting for this story, but is not required to read to understand this one. Actually, this one was published BEFORE the 'prequel'.
Chapters (7)