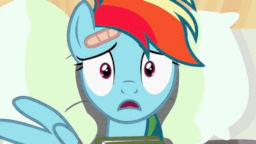 After Rainbow Dash had signified her sonic rainboom but extended up a bit and thought she could do a double rainboom as she is awesome. A lightning struck erupted her which made her memory gone. Her friends did all they could to find a cure to memory loss.
Unfortunately, they failed.
Now, it is up to Scootaloo to save her practical sister, but will she do it alone?
Chapters (2)