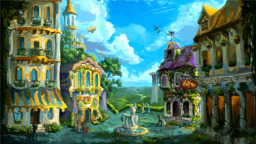 Source
Fresh off her graduation, Sunset Shimmer wanted nothing more than a break from the troubles and anxiety that plague her mind. And of course, through the Mirror lies the land she once called home, a retreat away from, well, everything.
Unfortunately, in a quiet little flower shop down a Canterlot street, who else should she meet, but a face from her past. One who'd rather not be forgotten, twice over.
---
8.3/10 from the Reviewer's Mansion
Set after most of Season 9 and the Equestria Girls series.
Written for Scampy (whose SunFlower stories are way better than this), and for Valentine's Day 2021.
Edited and proofread by VoxAdam and Gay For Gadot. Thanks, you two

Featured on 13/02/2021-14/02/2021.
Cover art by Plainoasis
Chapters (1)