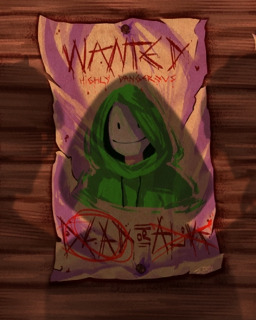 Please Read The Following Story First Before Sending A Dislike, Because I Know How The Dream Fanbase Works And I Don't Need More Toxic Dream Stans Destroying Me Lol
---
After lighting some fireworks and achieving his victory in 'Minecraft Speedrunner vs 4 Hunters GRAND FINALE', Dream was left craving for more. But what could they do? A consolation match to see if he was worthy of going against 5 Hunters? Jump right into the next series and invite someone else like Techno? Whatever their next move was, Dream knew there was so much more they could do. 
His answer would come in the most unexpected way when he and his friends got sucked into an unknown world. Believing it to be VR Minecraft, Dream and the Hunters started a round of Manhunt, eventually leading up to him killing his friends. But while everything seemed well with the Hunters respawning, this would set a chain of events that would lead Dream to become the most wanted creature in Equestria. 
Will Dream be able to fight off both the Hunters and Equestria long enough to get kill the Ender Dragon, and find a way to escape? Or will he be doomed to rot away in a prison for the rest of his life, if not worse? 
Cover not owned by me
(1) This Story Was Featured As Of 2/10/21 9:36PM
(2) Hit 100 Likes As Of 2/17/21 1:22AM
Chapters (10)