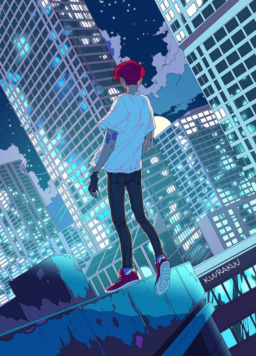 Source
Yes, the Cover image is cringey but that's all I can do for now. any suggestions for a cover will be VERY appreciative.
this story is in the first person.
tags that aren't in Fimfiction include:
suicide, the word Anon, Depressing, isekai, Transported to another world,
You are anon, you have had one of the worst life ever to take place on earth. in fact, if you don't commit suicide now you will probably be tortured by the mafia for not repaying your debt.
but as you are falling to your death with the pavement filling your vision you are suddenly moved from a city at night to what seems to be a farmyard at day supposedly levitating mear centimetres of the dirt ground, you have somehow transported to the land of blindly colourful ponys!
And these friendly ponies want to teach you that having friends isn't the worst thing in the world.
Don't expect regular updates, depression stops me from doing work T~T
[Edit] WOW this was cring!
I was SUPPER depressed when writing this. still am but I'm dealing with it better.
Chapters (2)