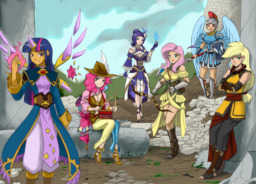 Source
It's said the Purple Dragon inn can do any request no matter how crazy or impossible. It's members are monsters and it's guild master a mysterious individual. But these are all just rumors....right?
After saving the world for the tenth time things finally calmed down for the triple S adventuring group known as Harmony. The party split to focus on personal goals but one member wished to avoid the fame they had gathered. What better way than taking up a guild as it's master, helping others grow famous so he could hide away. But as we all know the best laid plans never go perfect no matter what prep you have.
All characters are adults unless stated. Rule 63 discord (so they are Eris)
featured 3/6/21 let's go!
Chapters (4)