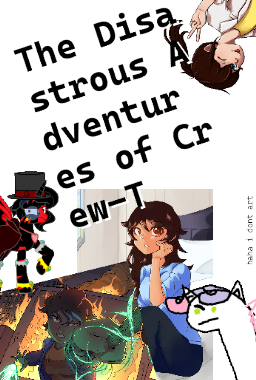 What happened to Crews A through S? We don't speak of them.
Read the disclaimer at the very bottom!
A mysterious organization known only as "The CC" emerged mysteriously on a mysterious night with mysterious motives. Their goal? To explore what was never explored before.
The problem? They've sent out nineteen exploration crews, only for each and every one of them to go missing. Also mysteriously, mind you.
And now, with their twentieth attempt in Crew-T, maybe something interesting will finally happen...
A play on the concept behind GMBlackjack's League of Sweetie Belles.
A sidestory to What If...
CONTENT WARNINGS: the complete and utter annihilation of the random tag, OC abuse, and the loss of readers' braincells. Also, the Crackhead Coalition.
Pay me money so I can buy new brain cells.
Submit your story down below with an embed, along with the worst summary you can think of, and I'll consider writing a chapter or two around it! I'll be sure to extract maximum clout out of the resulting garbage-tier horsewords. I can guarantee you that I will judge your story off its cover, yoink said cover and write a chapter knowing absolutely nothing about your fic except for the cover. That is your anti-quality guarantee.
(Also if you want I might also take What If-style suggestions.)
Disclaimer: I may turn down your suggestion for any reason, be it personal or technical. This entire story is written as a parody of anything and everything, so long as permission has been granted beforehand in the form of posting your story link in the comments. Expect your fics to be thoroughly mauled.
Chapters (22)