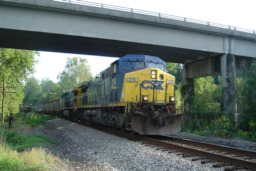 Source
"Tour America by Rail!" the sign said, and so Sweetsong does. Everything she needs for a journey fits into her saddlebags, and there are plenty of trains to choose from if she's resourceful enough.
There's nothing quite like having her hooves over the side of an empty gondola watching the world speed by, or looking at the stars overhead through the end bracing on a grain car. Sometimes box cars have their doors left open, and she knows how to jam them so they won't close en route.
When she gets where the train takes her, she can live off the land or sing and play her guitar for money. When it's time to move on? There's always another train.
---
Pre-read by AlwaysDressesInStyle
Chapters (27)