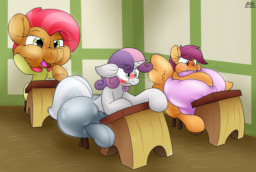 "The real question is, why would anyone send us pooltoy versions of them of all ponies?"

"Ah think the real real question is, who in their right mind inflates a pooltoy before boxing it up in the mail? These big boxes are expensive."
The CMC get a special delivery to her clubhouse, part of an elaborate magical prank by Diamond Tiara, Silver Spoon and Babs Seed.
Tagalong story (and expansion) to a trio of commissions I got from The Furry Railfan.
Not a clopfic, but I won't pretend there aren't a lot of kinks involved in this.
Story includes pooltoys, pooltoy tf, inflation, partial inflation, possession, partial possession, reality alteration, light hypno/mc, silly outfits, diapers and general silliness.
Chapters (1)