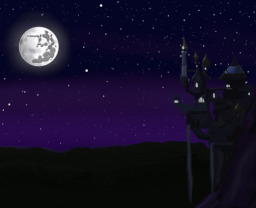 In Equestrian folklore there exists a creature unlike any other.
The folklore speaks of a magical creature with no known name other than what the ponies who listen to the stories call it, The Porcelain Demon.
Its tall posture and body type is quite the irregular from the common pony, instead of standing on hooves it stands on two feet and has five digits on the end of each arm, similar to a monkey. And instead of a face, adorns a pristine white featureless Porcelain mask with two holes for eyes.
One fateful night, the Princess of the Night finally finds that this creature is no being of fantasy, but walks amongst us in the shadows of reality.
---
This is an attempt at writing. I'm no regular to writing stories so granted there will be mistakes, but I am only human after all.
The cover art is not mine, I did not create it. The original creator is sgtgarand Check them out.
The 'other' tag was chosen for my human character. Didn't sit right only having Luna's tag. Sorry if the tag was misused.

Chapters (1)