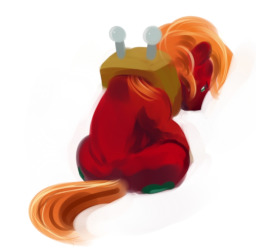 Source
A simple glimpse into Big Macintosh growing up, growing old, and moving forward.
----------
This story was written for a contest in the Quills and Sofa's Speed Writing group. Stop in some time and check us out! (unless the blinds are pulled then you need the secret phrase to get a peek)
Contest #74: Dictionary of Thoughts #1 - 9/15/20
Prompt: Pleasure
Quote: "The seeds of repentance are sown in youth by pleasure, but the harvest is reaped in age by suffering."
It got 1st place, so woo!
----------
Special thanks to Holt and Wish for pre-reading and editing, as well as the others in the contest for the kind words.
Art is by sb. Watch your filters, content warning on a lot of their newer art. Used without permission so any issues yell at me.
CONTENT WARNING! Involves season 9, for you people who can't handle the truth.
Chapters (1)