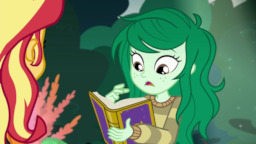 Source
In the aftermath of the Memory Stone incident, Sunset has been doing her best to make Wallflower feel included at Canterlot High. Thankfully, her efforts appear to be paying off. However, a certain online discovery leads to some interesting conversations—and revelations—between herself and Wallflower.
Sometimes, the best things grow out of what we shouldn't say.
Birthday gift for my girlfriend Scampy, who supplied the initial idea, and whose Wallflower stories are far better than this. Go wish her a happy birthday!
Written to this album by Drew Wholcomb And The Neighbors.
Chapters (1)