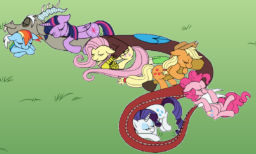 The first Sonic Rainboom was a surprising, unexpected event. A moment of confusion, disruption....Chaos.
Discord finds an early escape from his statue, but in doing so, unknowingly drags with him six fillies from across Equestria. All of them having lost their memories, with nowhere to go and no one to turn to. Besides him.
Discord thus becomes the reluctant father figure to the six mares that will one day become Harmony's champions. Well, best enjoy the good times while they last.
Chapters (2)