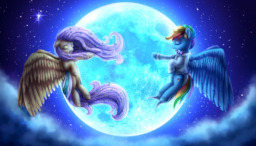 Source
The last night of the year is here and Pinkie Pie is hosting a fun night of dancing for all to enjoy. Vinyl Scratch and her marefriend, Octavia provide the music that leads many couples to the dance floor.
For Twilight, it is a rare opportunity to dance publicly with her marefriend, Luna. Celestia and her plus one, Discord also show up for some fun, chaos and dancing. For others such as Rumble, it is a night with the opportunity to discover that dancing with somepony doesn't have to be uncool.
Includes plenty of cute couples enjoying the night's festive dance as they see the last night of the year out.
Chapters (1)