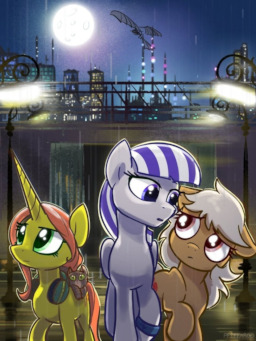 In the wonderful land of another Equestria, there was the night. Night eternal — but not because Nightmare won. Ponies live, love and create beautiful things and intricate spells under the appreciative light of Triangle of Moons.
Three Heralds of the Moons — ponies that have chosen for themselves to become living channellers of Moons' aspects — will hear out an offer of a Moon and form a group, hoping to fix one issue rooted in the ancient past.
Offers of this Moon are never without a complication; never as simple as they might sound.
This one is no exception.
---
Proofread by Koekelbag, thanks!
Cover art is made by pfeffaroo; cutie marks are made by Nuclear Tail
Additional tag: Dark. I do not feel it as Dark, and it is most definitely not Grimdark, but your mileage may vary, and themes mentioned more or less in passing include death and afterlife, for example.
You may also want to check Chapter 0 in case of being... out of touch with the text as it is. Plus some spoilers, and some clarity too.
Now has a TVTropes page. Feel free to add to it.
Chapters (74)