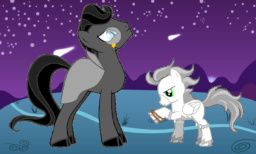 Formal Premise: The inventors of the Mirror wanted to create a device that could channel infinite magic to grant wishes. The hard part was making sure those wishes would never destroy the world. Showing a person their heart's desire is a sensible precaution to put into a wish-granting machine designed NOT to go horribly wrong.
The Atlanteans got close, even managing to instill some amount of intelligence and morality into the Mirror. But they never finished their work; the Mirror never DID get to the point where it could grant wishes... at least, nobody believes it ever got to that point. But then, nobody has ever been trapped inside the Mirror and returned to tell the tale.
When the Mirror traps someone inside itself and outside of Time, that person and their consequences can no longer effect the world. In that circumstance, with a person fully under its power, the Mirror isn't limited in what it can do. Sometimes, it can even grant seemingly incompatible wishes.
But complex problems require complex solutions. In this case, the Mirror takes a few massive liberties about how, exactly, it satisfies the wishes of both Harry Potter and Lord Voldemort. Namely, it sends them to a world of ponies.
Informal Premise: This is a crossover between MLP and Harry Potter and the Methods of Rationality, not just Harry Potter. No matter how accessible I try to make it to those who haven't read HPMoR, those who HAVE read it will undeniably have an easier experience reading this story.
HPMoR is the second most popular fanfiction of Harry Potter, at least according to fanfiction stats. It involves Harry studying & dissecting the wizarding world with science. Not with technology, with actual science. That is, he uses the experimental method, generates and tests hypotheses, and in the words of his Occlumency instructor, "wants to discover the underlying rules of magic to become all-poweful".
THIS fanfic brings THAT version of Harry Potter to Equestria. It also brings that story's version of Voldemort.
If you want the best reading experience, please go read HPMoR first. It can be found on fanfiction dot net, or on its own website, or even on any podcast app, as it has its own fan-made audiobook with 30+ contributing voice actors, production quality, sound effects, music, etc. (which is more than can be said for most PROFESSIONAL audiobooks).
Link to HPMoR on fanfiction: https://www.fanfiction.net/s/5782108/1/Harry-Potter-and-the-Methods-of-Rationality
Link to HPMoR on its own website: http://www.hpmor.com/chapter/1
Link to audiobook (though the website isn't nearly as good as podcast apps): https://hpmorpodcast.com/?page_id=56
All forms of HPMoR that I've encountered are high quality, but that doesn't mean it's for everyone. You can probably read the first few chapters of HPMoR in thirty minutes or so. If it doesn't appeal to you, this story probably won't appeal to you either.
For those who haven't read Methods and want to read this story anyway, the first two chapters are going to be the most confusing. They're mostly housekeeping and stage-setting, barely touching the MLP universe beyond the new setting.
And I think the same advice Yudkowsky gave for HPMoR applies here. The story starts hitting its strides around Chapter 5, if not sooner. If you don't like it by Chapter 10, best just to give up and read something else.
Chapters (68)