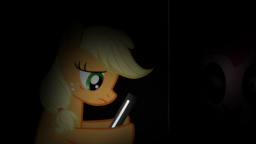 Source
"Hello? Hello, hello? Well, if you're hearing this, then chances are you've made a very poor career choice..."
Applejack was in desperate need of a job. She couldn't afford to operate the farm on her own anymore. Luckily for her, the abandoned Pinkie's Cupcake Palace is in need of a night guard. Simply watch the establishment overnight through the provided security cameras. But something tells her there is more to the job than what is being told.
---
This is my first story, so I apologize for any errors or just flat out bad writing. Criticism is welcome.
Inspired by Five Nights at Freddy's (obviously).
Chapters (6)