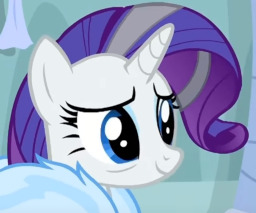 This story is a sequel to Partner
---
Longdesc
Rarity has always dreamed of three things. Being at the top of the fashion game, having a full social calendar in great demand, and catching the eye of a royal. She now has all of these things, in the best way. She's the special somepony of the most royal royal of all. Her longtime friend and Sovereign of Equestria, Princess Twilight Sparkle.
So she's happy, right?
It's so much better than what she would have had with Applejack all those years ago.
Right?
---
Tags
Sex: Rarity's recollections just got a little too spicy for me to not want to play it safe, but it's pretty close to not needing the warning.
There are some Unhealthy Relationship Dynamics
Continuity
A companion piece to Partner, which expands on the past of the AppleDash relationship mentioned here, though that relationship is much healthier.
Author's Note
Interesting that Twilight Sparkle and Rarity are the only unpaired members of the Mane Six at the end of the show.
Right?
Also in my Equestria there is a magic-based way for mare-mare couples to have biological children. The mechanism isn't important, and it's not commented upon because it's very normalized. Just so you know, in case such things confuse you.
Chapters (1)