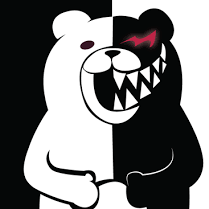 This story is a sequel to Danganronpa vP: Harmony of Despair
---
A few years after Twilight's coronation, Starlight Glimmer decides to take a well-earned vacation from running the School of Friendship. She uses the Crystal Mirror to travel to the human version of Equestria and surprises her friend Sunset Shimmer with a visit.
However, her vacation is quickly and rudely interrupted. Starlight soon finds herself stranded in a remote mountain valley with Sunset and fourteen other humans, with no memory of how they got there. A strange black and white bear appears to tell them that this is now their new, permanent home; the only way to leave is to kill someone and get away with it in a trial.
With only her wits and a fraction of her usual magical capabilities available to her, Starlight vows to do whatever it takes to get herself, Sunset and the others to safety. Nopony- er, nobody's going to die on her watch! But the Mastermind has their own devious plans...
Chapters (16)