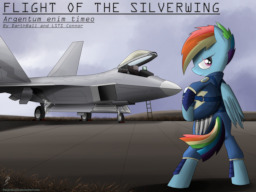 Source
A thousand years ago a battle took place. A battle so Powerful and Intense it did the impossible. Magic, a once unlimited Power found all over the Planet. Now reduced to an ever-dwindling underground resource. The World of Equis is now forever changed. The future once fated for Equestria filled with friendship and peace is now but a distant memory.
Now with war looming on the Horizon for the Pony nation and the stockpile of magic dwindles ever further, this is the story of how a pegasus filly would become known as the infamous and Legendary...
Silverwing
This is her tale, from a one of a kind filly with big dreams to the Silver terror of the Skies
---
Welcome one and all to the beginning of LSTS Connor's and Darthballs first Collaboration.
Welcome to the First Story in our new Universe inspired by the Ace Combat games we love and Project Wingman (which we also love to death go play these games seriously) called:
Project Alicorn
Chapters (1)