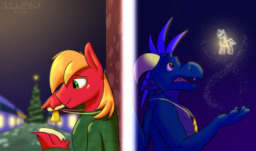 Source
The Apple Family is preparing for Hearth's Warming Eve while in Canterlot. Everypony is in the spirit of the season while collecting gifts for friends and family. However, Big Macintosh can't help but feel as though there's something or someone missing.
Meanwhile, Bright Sight is hard at work on his studies as he's looking forward to the Christmas festivities in the Dream Weaver homeworld. Unfortunately, his unpredictable magic forces him to question his worth.
A little bit of holiday magic will show that things forgotten are never truly gone.
Thanks to Vivid Syntax for the helpful feedback!
Cover art was drawn by me!
Chapters (1)