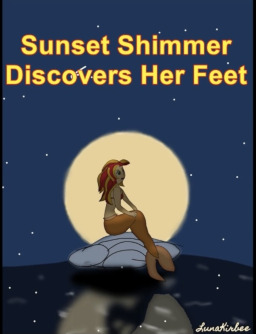 It's the Canterlot High School musical production of The Little Mermaid! Everyone is excited, if not nervous on how three reforming sirens are taking part.
For Sunset Shimmer, casted as the red headed mermaid, it seems like an otherwise relaxful endeavor while she focuses on her growing feelings for one of her best friends. That is, until she gets messages that will make her see just how much she has in common with said little mermaid.
Crossover story based on picture(s) by my friend Zarxnos
Current cover art by LunaKirby https://www.deviantart.com/mslunakirby/art/Commission-Little-Mermaid-Sunset-Shimmer-880526509
A story about discovering love, finding your voice, facing you fears, and learning to stand on your own two feet...🦶
Special thanks to ArielFan90 and ExplosionMare for pre-reading and other technical issues.
And to this and the eventual dramatic readings sponsors;
Admiral Typhoon, Saita the Kirin, Fanura Joy, Peppermint Papa QWERTY841, & Arielfan90
Chapters (13)