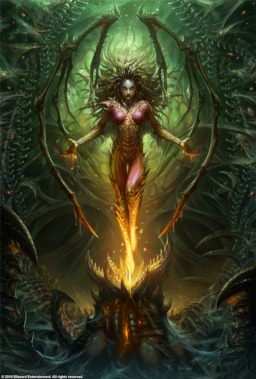 The Xel'Naga Artifact's activation at the end of the battle on Char has a completely different result than Raynor expected. It sends the Queen of Blades to Equestria, and the Elements of Harmony. Given her reality bending power, and overall manipulative nature, the Elements restrict her power upon her arrival. So, what's a newly weakened Queen of Blades to do, inside the Elements' vault in the castle?
--------------------
Note: If you're not familiar with the SC universe and haven't played the last mission in the WoL campaign, the prologue and a few other things might not make sense to you. I suggest you either get the game, as it is one of the best RTS games ever made, or read up on a bit of lore before you get started.
Inspired by Celestia vs the Queen of Blades, and the lack of other Kerrigan crossovers, barring the all out invasions or Ponies as Starcraft campaign transplants.
A combined work between myself and Destructorspace
Disclaimer: I don't own Starcraft, the Queen of Blades or My Little Pony, that is Blizzard and Hasbro, respectively. This is a fanfiction only.
Chapters (14)