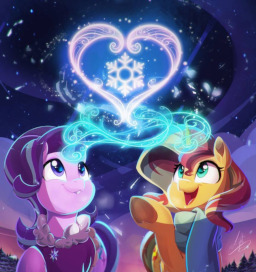 Source
Hearth's Warming is here again, just a few months after Twilight's coronation!
During these few months, Twilight has been overworking herself and has almost no time to spend with her friends outside of their monthly meetings.
Starlight wants to surprise Twilight on Hearth's Warming but needs something fresh, and thus she enlists Sunset Shimmer's help, to ask her how they celebrate Hearth's Warming on the other side. Sunset agrees to help, and they work together to make the perfect Hearth's Warming for Twilight.
---
This was written for Flashgen as a part of Jinglemas 2020! For more information about Jinglemas, checkout our group!
Art by Light262 on deviantart.
Chapters (1)