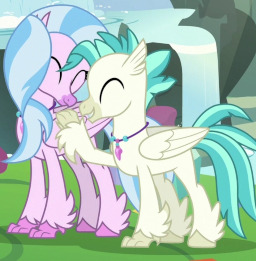 Source
(Collab with Latecomer, takes place after the events of "Student Counsel".)
Although Silverstream was found safe and sound, Terramar is still far from relieved about how things turned out and how they got to where they were. As the two siblings head back to Mount Aris it isn't long before Terramar reveals just how worried he was about Silverstream and how worried everyone else was too.
This causes Silverstream to reflect back to a time when she was worried about Terramar as a child. A time when fear was something she knew all too well, back when she lived in Seaquestria.
As Silverstream reflects on this she'll come to realize something truly important about her little brother. And Terramar may found out that his sister's motivations are deeper than they initially seem.
Chapters (1)