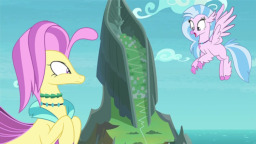 The Storm King has been defeated, meaning Mount Aris and the Seaponies that lived in hiding underneath it are free from his evil rule. The returning Hippogriffs are busy working on the island to restore the place to its former glory, and one young and enthusiastic seapony, Silverstream, really wants to explore it for herself.
Unfortunately, her mother isn't so confident that the island is safe just yet, and worries she might get in trouble if she does.
What's a seapony/hippogriff to do?
Chapters (1)