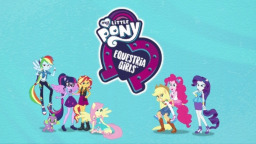 Join the Main 7 in a series of adventures to discover the magic and the true meaning of friendship.

Sunset Shimmer: She's someone who already tries to do the right thing. This is an Equestria Girl loving and caring for all of her friends. Friendship forever!
Twilight Sparkle: Clever and curious, this Equestria Girl is always ready for a new challenge!
Fluttershy: Though shy and soft-spoken, this kind-hearted Equestria Girl will stand up for her friends no matter what!
Applejack: Sincere and self-confident, she is an Equestria Girl who stays true to herself!
Rainbow Dash: The ultimate team player, this Equestria Girl enjoys having fun with her friends!
Rarity: Trendy and fashionable, this Equestria Girl is all about generosity and fabulousity!
Pinkie Pie: Entertaining and energetic, this Equestria Girl always makes sure her friends are having a great time!
---
*Disclaimer: Every character in this is owned by Hasbro not me.*
The description was from the MLP or Hasbro official channel of MLP vids except for the first part and Sunset Shimmer bio.
*Featured: 3/13*
Chapters (6)