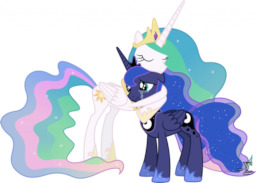 Source
Cover image made by: 90Sigma
Second story, here we go.
Decided to make it a prequel of "Luna's crossroad" since I can see it occurring after this story.
As Luna says goodbye to the elements bearers she now has to deal with something that she dreads just as more as the monster that was just defeated.
Celestia.
Well basically this very self explanatory, what happens to Luna after the Tantabus episode? It not only focuses on her but also on Celestia to give sense to what she does on the story and also there is plenty reminiscing to give an idea of how Equestria is in my story and to give an idea of the lives of the sisters.
I don't know if there is enough sadness for the tag but I will put it just in case.
Chapters (4)