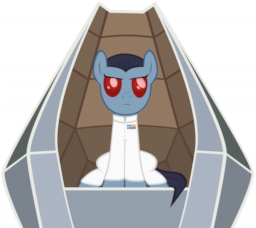 Source
This story is a sequel to Starshot: Star Speaker
---
Three years ago, an alien spacecraft was discovered buried deep beneath the Everfree Forest. Without delay, it was excavated and thoroughly studied to the best of Equestria's capabilities. All signs pointed it being completely defunct, never to fly again.
Though unfortunately for creatures visiting it during its first day as a museum, the truth was the exact opposite.
A three hour tour of the ship has now turned into a grand tour of the galaxy. Will homesickness overtake these new explorers, or will they learn to love going where no pony has gone before?
__
In Part ll of the Starshot's tale, our intrepid space explorers meet the first bastion of resistance to the evil Oblivion Empire. One partially composed of a people who once swore loyalty to Luna. Unfortunately, a major difference in ideology may keep an alliance from forming.
Will they agree to disagree, or be picked off one by one by the Empire's strategic mastermind, Grand Admiral Warp Song?
Chapters (8)