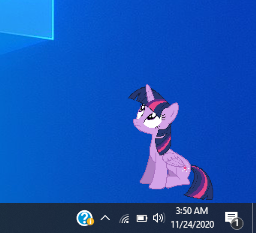 Source
Having a desktop pet can be relaxing to watch, but the Twilight Sparkle pet is a bit more unique as it's capable to perform conversations with its user. It's a learning pet, but the way it performs could leave some people to believe that this Twilight is actually alive.
But it's still just a program... right?
---
Even though this is an Anon story, their name will be changed to Antoni for the sake of my sanity and to allow both genders to be interpreted (Antonio = Male) (Antonia = Female)
The cover image is a quick overlay of a Twilight vector image by sapphire-beauty0 over a screenshot of my desktop.
Made for a competition at Angel Midnight's Hideout.
TheFlint44 has also made a Chinese translation (中文译文) of the story for your pleasure.
Chapters (1)