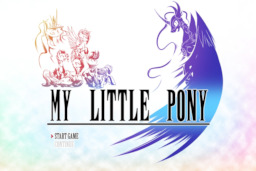 Source
An alternate universe where the power of dreams unites worlds. In the past it brought a share of unpredictable outcomes and new possibilities for Equestria.
The power eventually led to the worlds being split apart and as time went on, it gradually faded from existence.
Until now.
---
Teen rating due to fantasy violence.
Crossover between the MLP: FIM universe ( will include references to the IDW comics and Equestria Girls) and several game series. There will be appearances of characters themselves and worlds or just powers/concepts. Also Includes Ocs  and a universe composed of various amounts of these themes.
Expect the Unexpected
Current Story contains
Characters/Beings from - Them's Fightin' Herds, Yu-Gi-Oh, Pokémon, The World Ends With You.
Refs/Concepts: Final Fantasy ,Megaman Legends, Kingdom Hearts.
---
This'll be an introduction to the setting for hopefully a collection of stories based on this AU.
Shoutout to writers CrownofDissonance, Steel Soul, Tundara and artist Brownie-Bytes for inspiring me to start this story.
Chapters (7)